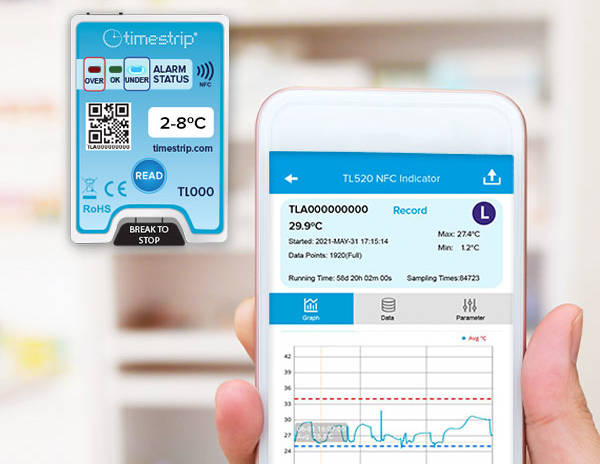 Within its 40 x 54 x 5.5mm IP54 enclosure – half the area of a credit card – the company has built a battery, status LEDs, a push button, enough memory to store 3800 data points and an NFC link so that its logs can be downloaded to an associated phone app.
The device is intended to packed along with products to be shipped, and the company has used its experience in making simple trip alarms, that tell customers if the product they have received has been too warm during shipment, to make a data logger that can be used with minimal training.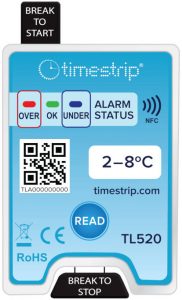 A prominent snap-off tag starts logging, while a less prominent snap-off stops it. The button can be pushed for a quick visual check, and status is flashed on the LEDs every 30s – if the wrong-temperature alarm trips, it stays tripped.
Operating range is -30 to 60°C, with accuracy of ±0.5°C from -20 to 40°C and ±1°C outside that. Power comes from in internal CR1620 lithium coin cell, which lasts a year.
The unit is available with a default 2 – 8°C alarm trip, or custom versions can be created. Both iOS and Android versions of the app are available for temperature breach investigation.
Timestrip makes both electronic and chemical-based temperature monitors, and has sold over 100 million units to food, pharmaceutical and healthcare companies including 3M, Tesco and Siemens. It is the winner of an NHS Innovations Award. The indicators are designed in the UK and manufactured in Asia.