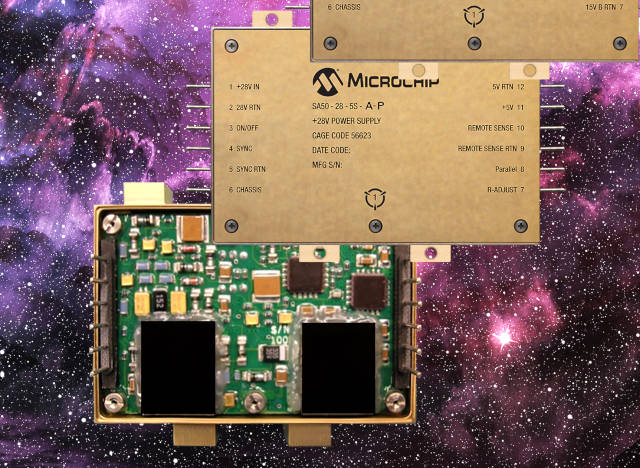 Why discrete components and not hybrid construction?
"They are easier to customize than alternative space-grade power converters so they can meet specific voltage, current and other needs," said Microchip v-p of discrete products Leon Gross.
Custom versions are available "with reasonable lead time and modest NRE cost," said Microchip.
The isolated magnetic-feedback 220kHz forward-converter is the 50W-rated SA50-28. Calculated MTBF is eight million hours.
Inputs can span 20 to 40V and there are five different single-output models, offering outputs of 3.3, 5, 12, 15 or 28V. There are also four triple versions with +3.3V or +5V, and dual 12V or dual 15V.  The dual outputs are isolated, allowing them to be mixed and matched into ± pairs or higher voltages.
Size is ~78 x 52 x 12mm plus pins, and there is a choice of top-pin or side-pin packages.
Full power is available across -55 to +85°C, derating linearly above that to zero at +125°C.
Features include output inhibit control, input under-voltage lock-out, over-current protection and external synchronisation.
An external filter is required to achieve MIL-STD-461 EMI compliance – Microchip offers its SF200-28-28S for this, and at least some of the Microsemi-branded versions of the data sheet include a discrete design.
Radiation hardened options go up to 100kRad (Si) total ionizing dose and > 80MeV.cm2/mg single event effect rating for space and military applications, then prototype-grade units are available, as well as non-radiation-tolerant engineering units.
The dc-dc converters are designed and manufactured in the US, and require an approved export license prior to leave the US as they are subject to ITAR (International Traffic in Arms Regulations).